The license for MasterCook is per user. So each person using the program needs to purchase their own license. We have a personal use license and a business use license as explained on our Products page.
The Windows version of MasterCook has many features because the Windows operating system is very powerful and can support many complex functionalities. Websites are not that way, so all web apps and mobile apps are very limited in features and scope. (For example, the Windows version of Microsoft Excel has far more features than the Excel mobile app.)
Feature differences in the MasterCook products: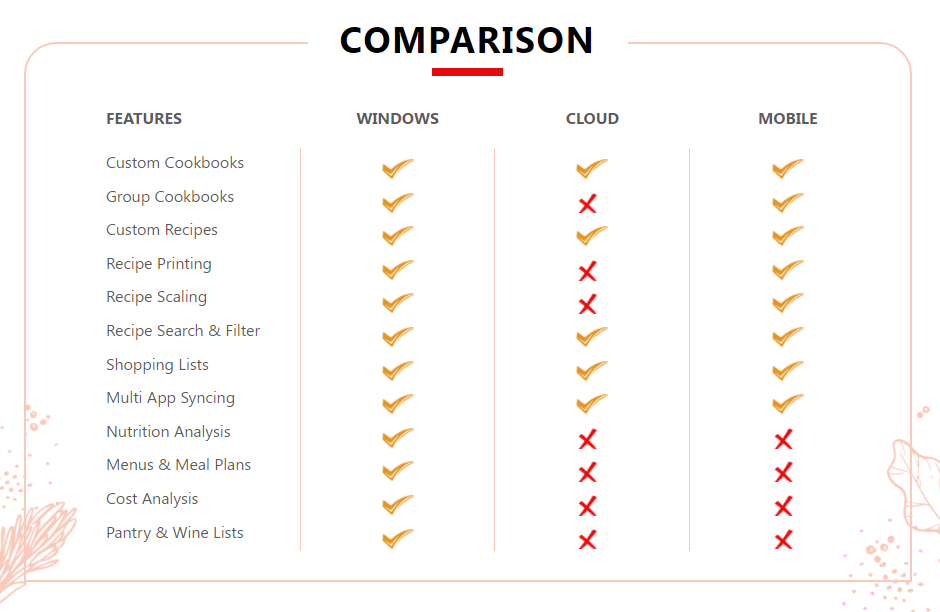 The Windows version of MasterCook is the most powerful which is why it remains a successful Windows recipe management program since it was first released in the early 1990's. At MasterCook.com you can purchase the Windows program with or without a subscription to MasterCook.com.
If you have a Mac computer, Apple explains how you can install Windows: Install Windows 10 on your Mac with Boot Camp Assistant - Apple Support
The online features and mobile apps for MasterCook were introduced over 10 years ago so that people could access their recipes even when they are away from a computer. Many people use tablets in their kitchens for example and need to access their recipes on a tablet instead of a computer.
Our MasterCook Synchronization article explains how to sync the MasterCook Windows program with an account at MasterCook.com.
TRIAL VERSIONS
ONLINE & MOBILE APPS: You can try the online features and mobile apps for free for 30 days with up to 25 recipes.
WINDOWS VERSION: You can order an older Windows version of MasterCook here: Intro to MasterCook (It is version 14, so you are able to try all of the Windows features out and see how the program looks and works. All newer versions have the same user interface and features, plus new functionality!
!! The MasterCook Windows download products are non-returnable and non-refundable. ALL SALES ARE FINAL !!
MORE INFO BEFORE PURCHASE
Otherwise, there are plenty of ways to get to know the product before you buy it. This article explains our current MasterCook products and how they can work with each other: Getting Started with MasterCook (Overview of All Products)
You can download the mobile apps from the Google Play Store or the Apple App Store. They are free. They work with a MasterCook.com account (free trial or paid subscription).
You can see a video of our Windows product here which allows you to see how it looks and works before you buy it:
The Windows product includes nearly 20 print templates, and they each can be customized to rearrange the data fields and their font attributes, etc. See this article:
http://support.mastercook.com/entries/23059837-Editing-a-Print-Design
You can try the web importer for free. Just create an account at MasterCook.com and use it. See these articles:
MasterCook Recipe Clipper for Computer Web Browsers
MasterCook Recipe Clipper for Mobile Devices
You can sync your content between your MasterCook.com account (web imported recipes) and the MasterCook Windows product on the computer as explained here:
MasterCook for Windows Synchronization
There are further videos on our YouTube channel:
https://www.youtube.com/@MasterCookVideo
We have many articles to review on our Support website.
The MasterCook Windows download product is non-returnable and non-refundable. ALL SALES ARE FINAL.