CHROME OR EDGE
NOTE ABOUT EDGE: The current version of Edge can also use all Chrome add-ons/extensions. You will see a notification at the top of the screen to allow extensions so Edge can use the MasterCook add-on in the Chrome Web Store. You need to click on that confirmation link.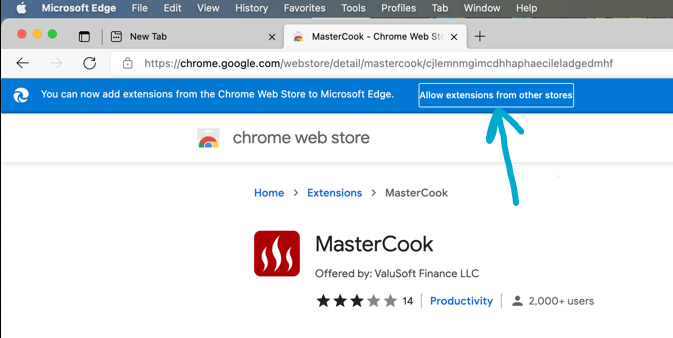 Go to the Chrome Web Store and search for MasterCook.

When viewing the MasterCook extension at the Chrome Web Store, click on the Add To Chrome button to download and install the new add-on to Chrome or Edge.

Next, you need to pin it to your web browser. Click on the puzzle/game piece icon in the upper right corner of Chrome. When the Extensions window appears, click on the pin icon to the right of MasterCook.

This video below shows you how to get the new MasterCook add-on for Chrome or Edge and then use it.
If you come across a website where the recipe isn't importing to your satisfaction, don't fret!
Some websites change their recipe formatting, and our developers are constantly updating the MasterCook.com algorithm to keep up.
In the meantime, you can use the manual import option as demonstrated in the video below.
This video below shows you how to use the new Manual Import option.
FIREFOX
Follow the instructions below to get the MasterCook add-on extension for Firefox. Once you have it installed, it works just as it does for Edge and Chome as demonstrated in the videos above.
Go to the MasterCook add-on web page: https://addons.mozilla.org/en-US/firefox/addon/mastercook/
Click on the Add to Firefox button.
Confirm you wish to add it by pressing on the Add button.
Press the Okay button when it shows you that MasterCook was added.
Now you are ready to go view a recipe on its own website and use the MasterCook button in the upper right corner of Firefox. (Watch the demo videos above, if you wish.)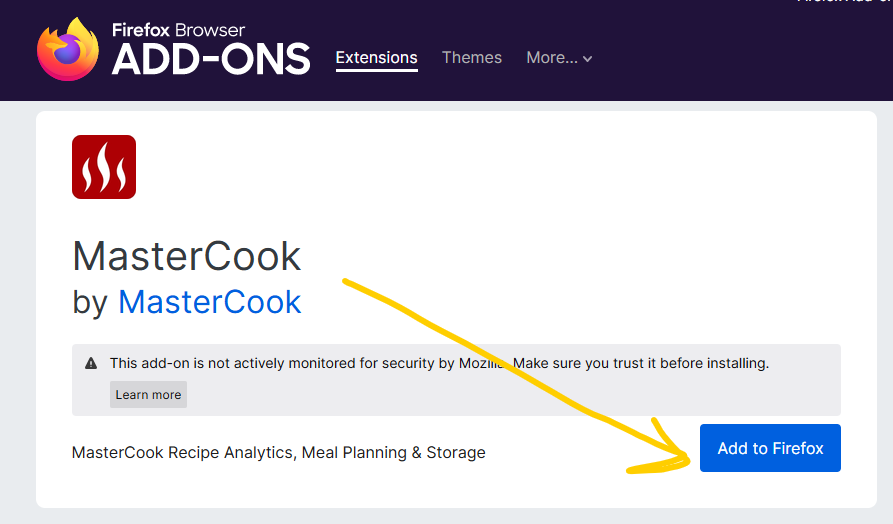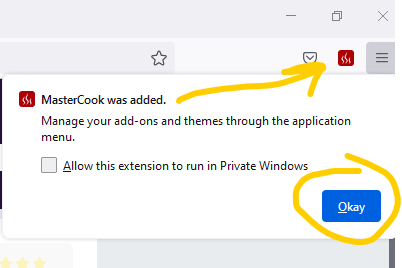 MAC COMPUTERS
You can install Firefox or Edge on your computer and use the MasterCook add-ons with them as explained above.
How to Install Microsoft Edge on macOS - Microsoft Community