There are several ways to email a recipe to someone.
The most straightforward method is to copy a recipe and paste it into your email. Two steps and you are done!
Or, you can export your recipes to a TXT or MZ2 file or create a PDF file and attach that to your email.
Another option is to use the email feature within MasterCook. This is a bit more challenging because MasterCook is generally blocked from accessing your private, password-protected email account for security reasons. Therefore, you must read and follow the requirements to allow outside apps, like MasterCook, to access your personal email account. Generally, this involves you creating an app password within your email account and then using that special app password in the Email Setup window in MasterCook. All email providers have different requirements. You should review their articles on how to allow other apps, like MasterCook, to sign into your personal email account. Below are a few examples. Contact your email provider if your email provider is not listed below. They can help you. Tell them you would like MasterCook to have access to your personal email account and ask them how to do that.
QUICKEST AND EASIEST
This is the quickest and most secure option because it does not require MasterCook to access your secured, private email account.
View your recipe in MasterCook and select Copy Recipe from the Edit menu. Paste the recipe into your email message. Only two steps, and you are done!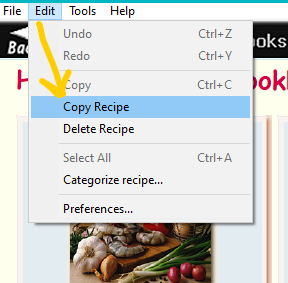 ALLOW MASTERCOOK ACCESS TO YOUR EMAIL ACCOUNT OR CLIENT
If you wish to allow MasterCook to send the recipe to your email program installed on the computer such as the 32-bit version of Microsoft Outlook or if you want MasterCook to access your email account, use the Email Setup window in MasterCook as explained in this article: