Go to the Help menu in MasterCook 2020 on your computer and select About MasterCook. Confirm the version number there shows 20.0.3.1. It is the only version that has the new nutrition print template.

1. View a recipe in MasterCook 2020.
2. Select Print/Publish Recipe from the File menu.
3. In the Print window select the MC Default Design 2020 and then press the Edit Design button.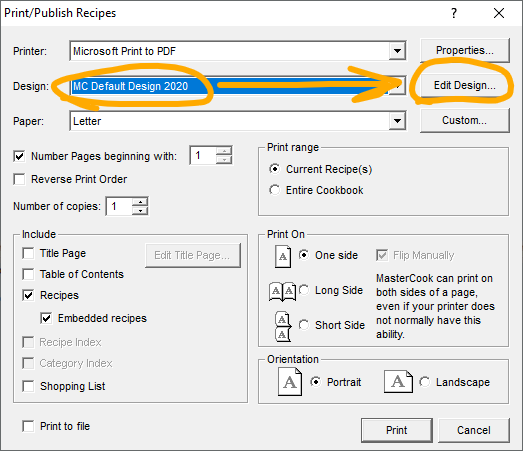 4. When the Edit Print Design screen appears, you will see the new nutrition facts and complete nutritional analysis report. Use this design when you wish to print the nutrition facts or a complete nutritional analysis report. See the samples below.
TIP: You can print only the nutrition facts or only the nutritional analysis report if you hide all other recipe data fields. To do that, click on the Palette button at the bottom of the Edit Print Design screen. In the Publish Palette screen that appears go to the Hide tab. Add checkmarks to hide recipe data fields which also prevents it from printing. You can use the Save Design As command from the File menu to save your design separately with a new name. For more tips on editing print templates, see this article.