The MasterCook Windows product has an advanced search screen that allows you to find recipes that exclude allergens.
To access the advanced search screen, start up MasterCook on your computer and go to the Search screen. Click on the Expanded Search button in the upper right.
See the screenshot below for an example on how to use it. For more information see the program's Help and review the topics on using the Expanded Search.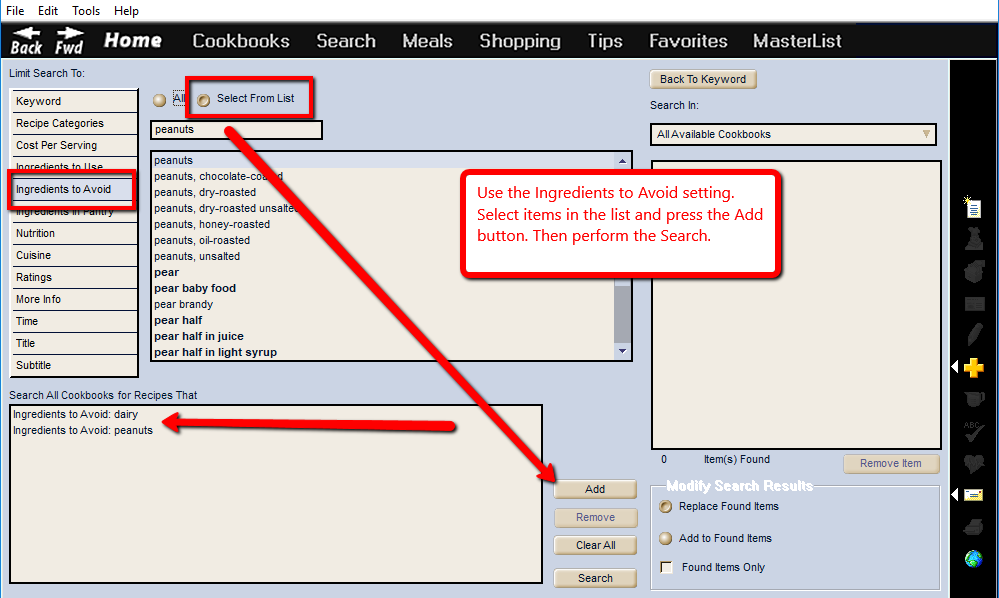 Performing an Advanced Search
Click on the EXPANDED SEARCH button to see the Expanded Search screen for more options.
To configure an expanded search click on a condition in the Limit Search To: list and select the criteria.
For example, if you want to limit your search to a specific recipe category click on the Recipe Categories search condition. Click the SELECT FROM LIST radio button and then choose one or more of the categories to include or exclude. Press the SHIFT key while clicking the categories if they are contiguous or the CTRL key if they are not. Click the INCLUDE or EXCLUDE button and then click the ADD button to finish your configuration. Now click the SEARCH button to perform the search based on the conditions you specified.
The ADD button will add search criteria to the Search Cookbooks for Recipes That field.
The REMOVE button will remove search criteria to the Search Cookbooks for Recipes That field. Select the criteria and click the button.
The CLEAR ALL button will remove all the search criteria to the Search Cookbooks for Recipes That field.
NOTE: The default for each search condition in the Limit Search To field is All.
In the Modify Search Results field you can choose to have the new search appended to the old search list, replace the items in the list with those found in the new search or you can search the found items only.
The expanded search criteria are:
Keyword
Recipe Categories
Cost per Serving
Ingredients to Use
Ingredients to Avoid
Ingredients in Pantry
Nutrition
Cuisine
Ratings
More Info
Time
Title
Sub Title
You can use search conditions together by clicking the ADD button after selecting each condition in the Limit Search To field. All the conditions you add to the search configuration will appear in the Search all Cookbooks for Recipes That: field. To remove a condition, highlight the condition and click the REMOVE button. Click the CLEAR ALL button to remove them all.
Click the SEARCH button to perform the expanded search. A progress bar will appear indicating what is being searched and how quickly the search is going. Depending on how many cookbooks, menus, meal plans or tips being searched it may take a moment. You can stop the search by clicking the STOP button, but if the item you are looking for has not yet been found you'll have to the run the search again to find it.
To return to the basic search window click the BACK TO KEYWORD button.