If you experience problem with MasterCook 15 or My MasterCook Manger please follow these steps below.
A. MasterCook expects Windows on your computer to be fully updated.
B. Reset the files for MasterCook as explained below.
C. A third step may be necessary to register a DLL file that MasterCook uses.
A. Update Windows
Go to the Windows Update screen on your computer. It will check to see if you need any updates. Download and install the updates listed. Restart your computer after updating.
B. RESET MASTERCOOK'S FILES
1. Tell Windows to show you hidden files and folders on the computer. See this: Show Hidden Files
2. Restart your computer. Do not start up MasterCook yet.
3. Then go to this folder on your computer:
C:\ProgramData\MasterCook 15
(Open the C drive. Open the ProgramData folder. Open the MasterCook 15 folder.)
Delete the JSON files and the MCW file from that MasterCook 15 folder as shown below. (There could be up to 3 JSON files inside this folder. The program will recreate these files later.)
4. Then open this folder on your computer:
C:\Users\Public\Documents\MasterCook 15
Open the C drive. Then open the Users folder. Open the Public folder. Open the Public Documents folder. Open the MasterCook 15 folder.
Delete the Mastercook Configuration settings file. (If you cannot find this file let us know. It's an important step.)
5. Then start up MasterCook 15. Does it work better now?
C. REGISTER A DLL FILE
The My MasterCook Manager requires a DLL file to be registered in order for it to function.
Please restart your computer. Then:
1) Press and hold the Windows logo key on your keyboard and press the letter X.

This brings up a menu where you can select to run Command Prompt (Admin) or Windows PowerShell (Admin). Make sure you run it as Admin or the next step won't work and will give an error instead.
You may need do this with PowerShell: (Open PowerShell as Admin)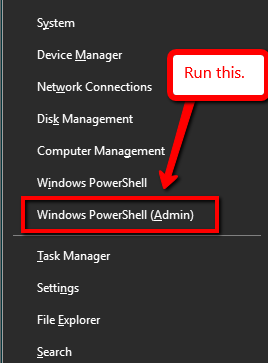 2) Copy this line text:
regsvr32 "c:\program files (x86)\MasterCook 15\Program\rtcwrap.dll"
3) At the command prompt, right click where the cursor is and select Paste to copy that line above in there. Make sure there are no spaces at the beginning or end of that line above.
Then press the Enter key on your keyboard. You should get a message stating it was successful, like this screenshot below.
INCLUDED COOKBOOKS MISSING
After removing the INI file, you may need to follow these instructions to get the cookbooks that come with the program to reappear.
FURTHER ASSISTANCE NEEDED
Additionally, if you are still having problems with My MasterCook Manager, please send us your MyMasterCookErrors.txt file that's within this same ProgramData\MasterCook 15 folder as shown above. Email that file to support@mastercook.com so we can check out the errors it reports.