It's easy to transfer your previous MasterCook content into the current version of MasterCook or merge from a backup location.
Merging from Version 4 or Earlier
(If you are using MasterCook 4 or earlier these instructions below do not apply to you. Instead you use the OPEN command from the File menu in MasterCook and direct it to your version 4 (or earlier) .mcf cookbook file and open it. The recipes will be added to MasterCook at that point. If you have any problems, submit a ticket to Support and attach your .mcf file.)
Merging from Version 5 or Greater or from Backup Location
MasterCook includes a way to merge you data from a previous version (version 5 or greater) or from backup and into the new version. When you launch MasterCook the My MasterCook Manager window will also appear. Click on the Merge tab along the left of its screen to use it.
At the top of this screen is the Find MasterCook Files In drop-down menu. You can select a folder on your computer, or a previous backup location. This looks in that selected location for your MasterCook files--ALL of them (collection folders and MC Tools folder).
Pick the folder that contains your backed up MasterCook files. If you have it search your entire computer instead, it's going to take a very long time!
It then displays the differences it finds between what you currently have in MasterCook and the location you have selected. Along the left you see the items it found. There is a drop-down menu you can select to give you different options for adding that content to MasterCook:
Create New Collection and Copy Files will create a new collection folder in MasterCook and copy that content there.
Copy To: My Collection will copy the selected content to the existing My Collection folder for MasterCook.
The Register Existing Collection, Do Not Copy Files will make MasterCook register the existing location and look there for the MasterCook content.
Along the right you can select the items you want to bring into MasterCook. Add checkmarks to those items. Then press the Merge Now button to complete the task.
Follow these steps below. During Step 2 you can select a folder on your computer. It will show you what it finds in that folder including things inside any subfolders.
Alternative Method to Transfer your Cookbook Files into MasterCook
This below works with files from version 5 or greater and has been used for years in those previous versions.
Or, you can place your cookbook files into the version 20 My Collection folder at this location on your computer:
C:\Users\Public\Documents\MasterCook 20\My Collection
Use Windows to open the C drive. Then open the Users folder. Open the Public folder. Open the Public Documents folder. Open the MasterCook 20 folder. Open the My Collection folder.
You will find the My Cookbook files inside that folder that install with the program. Your cookbook files (.mc2/.mcx) go in there too. If yours have the same name, yours needs to replace the ones that are in there. Then start up MasterCook 20 and select Refresh File List from the Tools menu, so MasterCook will make them appear inside the program.
See this article for more details on this method: Adding Cookbook Files to MasterCook
TROUBLESHOOTING
If you are using My MasterCook Manager for the first time and find that the window is completely blank instead of populating with data as shown above, then that means something prevented the program from completing its installation. Please follow these instructions to fix it:
Please restart your computer. Then:
1) Press and hold the Windows logo key on your keyboard and press the letter X.

This brings up a menu where you can select to run Command Prompt (Admin) or Windows PowerShell (Admin). Make sure you run it as Admin or the next step won't work and will give an error instead.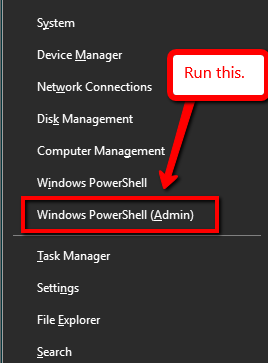 2) Copy this line text:
regsvr32 "c:\program files (x86)\MasterCook 15\Program\rtcwrap.dll"
3) At the command prompt, right click where the cursor is and select Paste to copy that line above in there. Make sure there are no spaces at the beginning or end of that line above. Then press the Enter key on your keyboard.
You should get a message stating it was successful: